Quench Bottleless Water Coolers
Filtered water is table stakes. A Quench bottleless water cooler takes on-demand hydration to the next level. Quench bottleless water coolers and ice machines use advanced filtration and sanitization technologies such as carbon filtration, reverse osmosis, UV sanitization, and antimicrobial surface protection to remove sediment, reduce lead and other chemical contaminants, and get rid of off-tastes and odors. By providing filtered water through a broad array of machines, our bottleless water coolers offer users countless consumption choices, including mineral-infused quenchWATER+, chewable ice, sparkling water, flavored water, and coffee.
Contact Your Local Water Expert
80%
cost savings vs.
bottled water delivery
1B+
bottles saved per year
Bottleless Dispensers Fit for Any Business
Contact Your Local Water Expert Today
Lisa Batts, Sales Manager
The Real Cost of Bottled Water
See How Our Bottleless Coolers Compare
Enter daily number of users:
Estimated Total Annual Cost
CO2 Equivalent: Miles in Passenger Vehicle
CO2 Equivalent: Operating Hours of LED Lightbulb
CO2 Equivalent: Miles Flown on a Passenger Airplane
CO2 Equivalent: Pounds of Coal Burning
Bottleless Water Cooler (Rental)
Bottleless Water Cooler (Purchase)
Jug Delivery (Cooler Rental)
Jug Delivery (Cooler Purchase)
Bottle Delivery
Premium Bottled Water
Nashville Water Quality: Then & Now
The first settlers of Nashville chose the site for Fort Nashboro because of the abundant availability of pure water from a local spring. As the city grew, water was pumped to a reservoir in the public square through hollowed locust and cedar logs, but in 1829 a fire destroyed the water distribution system. The infrastructure was rebuilt using cast iron pipes and satisfied the area's needs until the rapid population growth during the Civil War created much more demand for drinking water. In response to several cholera outbreaks in 1878, city engineers installed a island filtering gallery at the mouth of Brown's Creek to reduce the amount of waterborne bacteria in the drinking water by physically removing the mud and other contaminants in the water.
The City Reservoir, later known as the 8th Avenue Reservoir, was constructed as a settling basin, allowing mud to settle out of the river before distributing the water. To improve the color and taste of the drinking water, Nashville city officials started to add sulphate of alumina to help the naturally muddy river water to coagulate the smaller particles into larger, heavier pieces that would settle at the bottom of the reservoir. The Omohundro Water Treatment Plant was constructed in 1929 to help combat the water quality issues from using a settling basin.
Learn more about Nashville's drinking water history by watching the video below: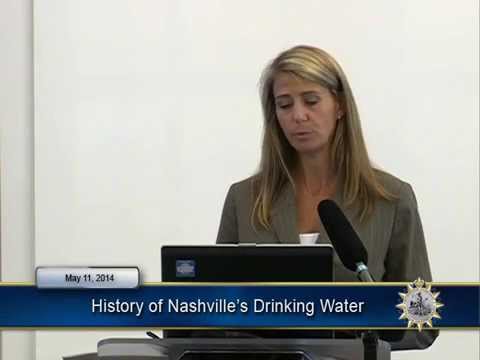 Both the 8th Avenue Reservoir and Omohundro Water Treatment Plant, which are listed on the National Registry of Historic Places and are still in use today! Like many older American cities, Nashville still has cast iron pipes in use. Cast iron pipes, particularly older cast iron pipes, are susceptible to corrosion and biofilm contamination from chemical reactions. These reactions can create clusters of deterioration and bacteria that can break off and travel with the drinking water, resulting in cloudy, off-tasting water.
Quench Water Coolers –
A Better Drinking Water System for Nashville
No need to worry about what your office's drinking water might have picked up on its journey to your glass. Quench offers a full complement of filtration and purification technologies to remove sediment, reduce chemical contaminants, including lead, and get rid of off-tastes and odors. That's how we can guarantee that Quench office water coolers produce crisp, clean, great-tasting water – and at a fraction of the price of bottled water delivery services. Go bottle-free with Quench and you will save time, money, and the environment, plus you will have better drinking water!
Quench Proudly Serves More Than 60,000 Customers Nationwide
I want to thank the team at Quench for the quick, professional installation of our new water system. You and your installation team made the process very simple and timely from start to finish. I highly recommend your product as an alternative to water bottles!
Bay Area Regional Medical Center
Nationwide Service with Local Presence
Quench's dedicated customer team stands behind every installation. You'll always find a well-trained, friendly human at the other end of the phone, and all service is performed by insured, certified Quench-badged technicians. Our customer service promise includes proactive preventive maintenance, filter changes, and all service and support. We worry about your drinking water, so you don't have to.
Proudly providing businesses with clean, filtered drinking water in the greater Nashville Metro Area, including the counties of Cannon, Cheatham, Davidson, Dickson, Hickman, Macon, Robertson, Rutherford, Smith, Sumner, Trousdale, Williamson, and Wilson.
Quench Filtration Solutions
For over 20 years, Quench has focused exclusively on providing businesses with the highest quality filtered water. This commitment to doing one thing well has made us the trusted water authority for over 50% of the Fortune 500. We offer the best bottleless water coolers, ice machines, sparkling water dispensers, and coffee brewers to fit any workplace. No matter your location, company size, or industry, we have a filtered water solution that is right for you!